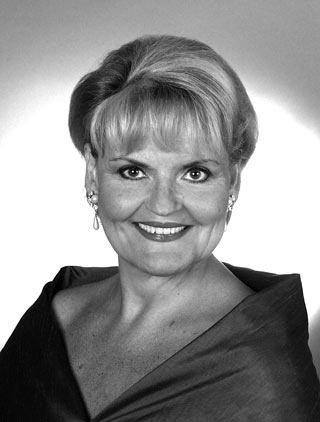 SHIRLEY CLOSE
Shirley Close, Associate Professor of Voice, received a Master of Music degree in Voice from the University of Southern California and a Bachelor of Arts in Music from Olivet Nazarene University. She has received many honors for her singing including the Martha Baird Rockefeller Foundation. She was a winner of the San Francisco Opera Regional Auditions, the Oratorio Society of New York, and the NATS Singer of the Year (Southern California Chapter).
She has performed opera, concerts and oratorio for the past thirty years in Europe, America and Asia. Highlights of her operatic career include performances at the Bavarian State Opera, the Cologne Opera, the Bayreuth Festival, the National Theater of Mannheim, Opera du Rhin (in Strasbourg), Opera de Nantes, Opera de Nice, the opera companies of Washington, Dallas, Atlanta and many others. She covered Isolde at the Seattle Opera, Brünnhilde at the Chicago Lyric Opera, Kostelnicka in "Jenufa" at the San Francisco Opera and at the Saito Kinen Festival in Japan (Ozawa). Additional favorite roles she has performed include Kundry, Ortrud, Tosca, Elizabeth and Venus, Santuzza among others. She has sung under many renowned conductors including Ricardo Muti, Daniel Barenboim, Wolfgang Sawallisch, James Conlon, Pinchas Steinberg, Michel Plasson, John Nelson, Dennis Russell Davies, Julius Rudel, Michael Gielen, David Atherton and others.
Alongside her stage performances she is often engaged as a concert performer in the major oratorio repertoire, having sung with the Philadelphia Orchestra, the Los Angeles Philharmonic, the San Francisco Symphony, the Bonn Philharmonic, the Indianapolis Symphony and the Rheinland Pfalz Symphony, the Oslo Philharmonic and the Stuttgart Philharmonic. She has performed many times at Carnegie Hall and at the Kennedy Center in Washington D.C. She sang at the 1994 Biennale in Munich, premiering a work by Hans Werner Henze.
Ms. Close is currently Associate Professor of Voice at Florida State University in Tallahassee and previously held the same position at the Greatbatch School of Music, Houghton College in Houghton, New York. She was honored in 2003 as the recipient of the Maggie Sloan Crawford Award given by Olivet Nazarene University to women who have excelled professionally and who are a role model to young women. Other recipients have included Sandra Day O'Connor and Elizabeth Dole.